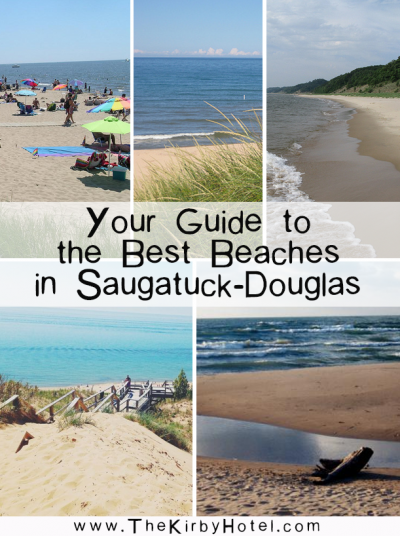 If we're being honest, we have to admit that we're spoiled.
We know that not everyone in the country gets to enjoy as much natural beauty as we do.  After all, we have a buffet of pristine beaches within just a couple miles of our front door.  So we consider ourselves darn lucky.
And we absolutely adore sharing our luck with visitors.  Whether you're here for a night or a week, we want to make sure that you get to soak in a healthy dose of our good ol' fashioned beach life.
Lake Michigan is pretty big – you can't miss it – but you might want to get the rundown of a few of the area's best beaches before you decide where to claim your patch of sun and sand during your next visit.
Perryman St. & Oval Beach Drive, Saugatuck
2 Miles from The Kirby
Of course we had to start with one of our biggest claims to fame, Oval Beach.  This gorgeous strip of shoreline made it onto Conde Nast Traveler's list of the top 25 beaches in the world!  Surely this is one of the many reasons that Saugatuck was just voted the #1 Best Coastal Small Town in America by USA Today.
It's the quintessential beach, with soft, white sand and clean blue water for miles.  And when you spend a day here, you'll have convenient access to plentiful parking, a concession stand, showers, restrooms, picnic tables, a playground and even grills.  All you need to bring is a pair of shades and a towel, and you're good to go.
Lakeshore Drive, Douglas
1 Mile from The Kirby
If you're into a rustic beach scene that feels a little more private, then Douglas Beach might be the one for you.  It's located in a residential area, so you should know that parking is limited.  But it's literally a straight shot down our very own street, so you can leave the car behind and be there on foot in about 15 minutes.  You'll find the beach down a set of stairs, but there are restrooms, changing facilities and grills at street level.
Saugatuck Dunes State Park
6575 138th Avenue (64th & 138th) Saugatuck
5.4 Miles from The Kirby
With over 2 miles of Lake Michigan shoreline, stunning 200-foot dunes and 1000 acres of hiking, Saugatuck Dunes State Park is one of our true natural treasures.  You may want to note that this is also the perfect place to visit in the winter as its home to cross country ski trails as well.  Keep in mind that there's a 10-minute walk down a sandy trail to reach the peaceful, secluded beach.
70th Avenue, Ganges Township
9.2 Miles from The Kirby
Visit this uniquel beach for something a little different – Pier Cove Beach is known for the water trenches that cross the sand, originating from a stream that feeds into the lake.  This makes it perfect for those who just want to dip their toes into the water and collect the unusually smooth stones and beach glass found here.
6710 142nd Avenue – Laketown Township
7.7 Miles from The Kirby
This stunning beach is a bit off the beaten track, which is the precise reason that some love it. Laketown Beach is at the bottom of a steep stairway made up of around 350 steps and there is no public restroom, so only choose this one if you're ready to rough it a bit in exchange for the views.
If you're willing to go just a little farther afield, there are dozens of other beautiful beaches nearby.  But this list gives you a great place to start when you're looking to kick back and relax to the soothing sound of water kissing the shore on a perfect summer day.