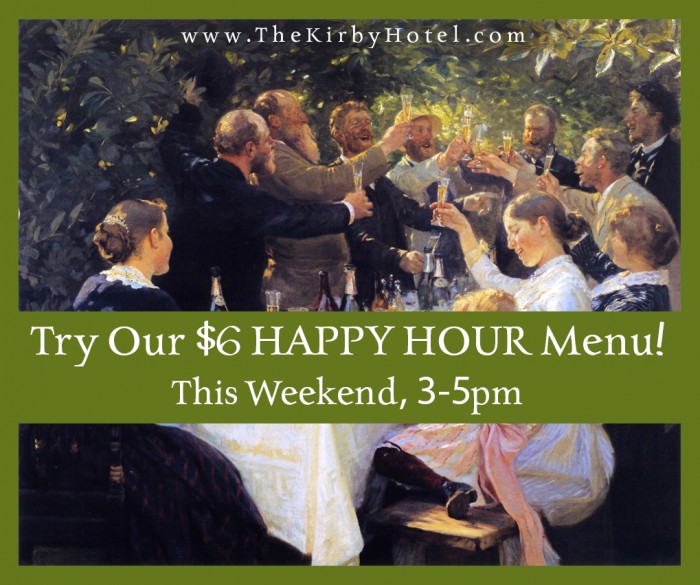 Is there any time of the week so universally anticipated, loved and celebrated than 5 o'clock on a Friday?
For as long as the modern work week has existed, we've spent our weekdays looking forward to our weekends.  No matter how much you may love your job, it seems that there's always a bit more to love about having two whole days to yourself.
And one of the very best parts of our weekends is spending time with friends and family over great food and drinks.  That's exactly why we've decided to get in on the time-honored Happy Hour tradition here at J. Paul's at The Kirby.
It's past lunch time and too early for dinner, but that doesn't mean you couldn't use a little sustenance, right?  Happy hour is the perfect time to swing by J. Paul's and order up a couple of small plates we've created just for this occasion.  We suggest that you and your party order a few different snacks and tastes and then pass the plates around so everyone can enjoy a little nibble along with their craft cocktail, local microbrew or hand-picked glass of wine.
If the weather is nice, grab a table on our lovely deck and enjoy the sweet summer evening while we make your hour just a little happier.
Snacks & Tastes
Crispy Chick Peas with Truffle Oil
Smoked Trout with Sesame Flats
Seaweeed Salad with Crispy Cucumber
Truffle Fries with Housemade Chive Mayo
Beef Tenderloin Sliders with Crispy Onions
Cheese & Charcuterie of the Day with Baguette
Mediterranean Olives & Almonds