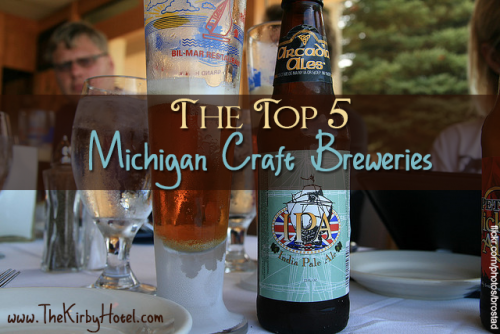 The craft beer craze has been sweeping the nation for more than a few years now. The number of different varieties of beers and microbreweries just seems to keep growing and the beers keep getting better.
And one of the hubs of this new industry is the state of Michigan. Our state is home to over 151 microbreweries according to a recent comprehensive list compiled by the Michigan Beer Blog.
In terms of sheer numbers, Michigan is the fifth largest state for craft beers and brewpubs in the whole country! So, if you're looking to get a taste of the Mitten state while you're away or are on the hunt for some boutique breweries to visit, check out a few of our favorites.
Arcadia Brewing Company, Battle Creek & Kalamazoo
In 1996 Tim Suprise wanted to combine his passion for British Ales with the craft beer phenomenon gripping Michigan at the time. He decided to start Arcadia Brewing Co. in Battle Creek and has stuck with the Brit-style ales ever since.
The beers have struck a chord with brew enthusiasts in Michigan and the company has been very successful. They import all their ingredients and beer making equipment from the UK and use it to make some very delicious, medium-bodied bitters. Some of their most popular ales are Anglers Ale, Cereal Killer Barleywine and Nut Brown Ale.
Right Brain Brewery, Traverse City
You know how left-brain thinkers are analytical and right-brain thinkers are versatile and creative? Well that's where the name for this zany microbrewery comes from. Founder Russell Springsteen started the company in Traverse City in 2007 and set out to create a brew that stands out, not just in terms of its taste, but also its energetic branding. Some of the best beers you could buy from this brewery include CEO Stout and Willpower Pale Ale.
Mitten Brewery, Grand Rapids
Although the brewery and restaurant is based in a Victorian style former fire-station, it's a very recent entry to the craft brew scene here in Michigan. The company was founded by close friends Chris Andrus and Max Trierweiler in the year 2012. The vast and creative brews available here have made this brewpub a great success in barely a couple years since opening its doors.  Try their Brinkman Dark Wheat or the unique Pine Tar Maple IPA.
Dragonmead Microbrewery, Warren
The founders of this award-winning brewery started off as mere home brewers playing around with home kits.  Fast forward to today and the established company produces over 47 different types of beer.  In fact, what sets this craft brewery apart is the amount of sheer variety they offer. The beers range from mild British ales to more mainstream-tasting German Lager. Try their Final Absolution brew, which won the gold medal in the World Beer Cup.
Founders Brewing Company, Grand Rapids
Founders was started in Grand Rapids in 1994 and initially tried competing with bigger brands to sell mainstream beer with milder, more conventional flavors. The strategy didn't exactly pay off and the company was on the verge of going bankrupt only a few years after starting. It was at this crucial time in the brewery's history that Founders decided to change course and serve full-bodied craft beer instead. The flavors were now more complex and with very heavy aromas. This led to a ton of critical acclaim. Beers such as Backwoods Bastard, All Day IPA, Kentucky Breakfast Stout,Porter and Harvest Ale have propelled this brewery to the top of our list.