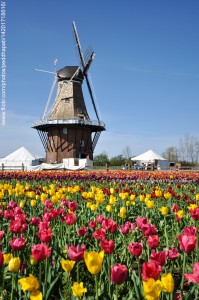 The Saugatuck-Douglas area is, in no way, short of activities.  The natural beauty, unique art galleries and boutiques offer visitors plenty to do.
2But if you frequent the area often or are just looking for a bit of variety, you're in luck!  Within just an hour or so of The Kirby are several great places that are perfect for a day trip.  You can spend a few hours there and then be back at your relaxing home base in time for dinner.
Check them out to see which places you might like to visit while you're here.
1.  Holland
In a mere 20 minutes in the car, you could be in lovely Holland, Michigan.  And while it's a little ways from its original namesake city, the place does have a decidedly Dutch feel – depending on the time of year, you can even enjoy the site of tulips, tour a traditional wooden shoe factory, take in the windmill and dine on traditional Dutch food.
And Downtown Holland is so charming that it has repeatedly won the "Great American Main Street" award.  Winter visitors will be happy to learn that the city's streets and sidewalks are heated, so that means snow-free strolling all year round!
2. Grand Rapids
At just 40 minutes from Saugatuck-Douglas, you can find yourself in one of Michigan's most happening small cities.  The great thing about Grand Rapids is that there's a lot going on, but it still retains the small town Michigan charm we love.
If you manage to see all the art in our area, you'll find lots more to see here – the city is chock full of public art, galleries and museums as well as performing arts venues.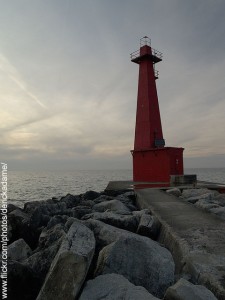 But if art isn't your thing, you can also explore the local craft breweries, play golf, bike around town or just casually enjoy the excellent shopping and dining opportunities.
3.  Muskegon
You can reach the town of Muskegon in just over an hour from The Kirby.  And when you get there, you'll find new beaches to explore, nature trails and even an
amusement and water park if you're feeling your inner child come out.  This is also a great town for history buffs – you can tour historic light houses, ships and more.
If you're looking for some physical recreation this winter, you ought to head to Muskegon Winter Sports Complex where you can snowshoe, ice skate, cross-country ski or even learn to luge!  And don't worry, when you come home to The Kirby, we'll have some hot cocoa and slippers waiting for you.
4.  Kalamazoo
Just 50 miles south-east of us lies Kalamazoo, a lovely college town that feels a little bit city and a little bit small town.  As its home to thousands of university students, there's always something to do here – live music, craft beer festivals, educational events, and sports.
Coming up soon are a few events you might not want to miss:
Global Marketplace Arts & Crafts Fair – Nov 15
The Temptations Concert – Nov 15
Holiday Art Sale – Nov 20 – 22
Turkey Trot Run – Nov 23
Manheim Steamroller Christmas Concert – Nov 29
Circus Maximus Antique Toy Show – Nov 29
We're a bit biased when it comes to Michigan towns, so we'll always say that Saugatuck-Douglas is #1, but when you're looking to explore new places within just a short drive of us, these are a few of our favorite places.