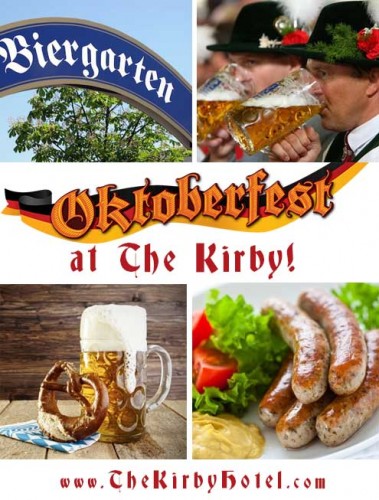 Grab your lederhosen & dirndls everybody – it's time for the first annual Oktoberfest celebration at The Kirby & J. Paul's!
We love an excuse to enjoy a delicious meal and a great pint of seasonal brew and we thought you might too.  And what better excuse is there this time of year than Oktoberfest?
This bucket-list-worthy German festival attracts nearly 7 million visitors who drink a combined 7.5 million liters of beer every year in Munich.  And during the 200 or so years since the festival's inception, its spirit has spread quite a bit, with small Oktoberfests happening in pubs, restaurants and towns all around the world.
Not to be left out of any celebration that features beer and sausage as its centerpieces, we decided to get in on the action and we hope you'll join us…
We'll kick off the celebratory weekend a little early – starting at 4pm on Thursday, September 24th, we'll have $2 beers and a Very Special Oktoberfest Happy Hour Menu to help you get in the spirit.  You can expect a $3 menu that includes a delectable selection of German beers, wines snacks and other fabulous fall treats.
As for hearty German eats, no Oktoberfest would be complete without brats, kraut, pretzels, spaetzli, schnitzel and more dishes inspired by Bavaria.  But don't worry, if German fare isn't your thing, you'll also be able to order any of our gourmet dishes off our regular menu.
Paying tribute to the boisterous beer tents that Oktoberfest is known for, we will transform the backyard & deck of The Kirby into a German-style biergarten complete with communal picnic tables in the garden and plenty of seating on our beautiful back deck overlooking the pond.
To have an authentic experience, we recommend grabbing a seat at a shared table so you can cheerfully carouse with your neighbors as the beer and good times solidifies your newfound friendship – after all, that's the Oktoberfest way.  And for those who really like to embrace the traditional, we heartily invite you to come wearing lederhosen or dirndls – in fact, the best Oktoberfest outfit will win a gift certificate for dinner for 2 at J. Paul's!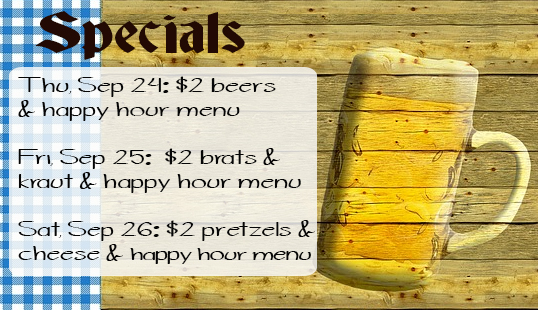 The fest will continue on into the weekend, starting at 4pm on Friday, September 25 and at noon on Saturday, September 26 .  On Friday evening, take advantage of our $2 brats & kraut special, and on Saturday enjoy the $2 pretzels and cheese and special as well as a DJ spinning festive tunes both traditional and contemporary.  And our special happy hour menu will be available all weekend long.
One of our favorite things about Oktoberfest is that it happens during one of the most beautiful times of the year – late September when the days are golden and temperate and the nights have just enough chill in the air to require your favorite fall sweater.  This is the time we Midwesterners like to sit outside, enjoying the final weeks of warm weather and the delicious seasonal drinks the breweries of this area are famous for.
We invite you to enjoy this time along with us – celebrate the beautiful changing of the seasons and the rich, centuries-old tradition that honors good food, good drink and good friends.  We can't wait to see you here!