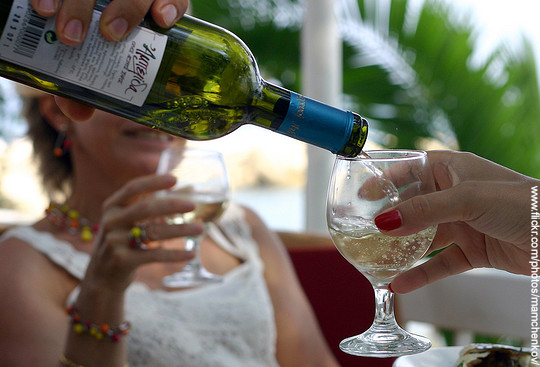 Welcome to the first installment of our new wine-themed Somm It Up blog series brought to you by The Kirby's own manager and resident wine expert Mindy Trafman.
Exercise more, lose weight, pay debts, recycle & reuse, take classes, socialize more, travel, help others, sweep up the NYE confetti that still remains on the floor….
Like me, many of you have made New Year's resolutions and procrastinate or stick to them for a few weeks and then watch them fall by the wayside. Spring is around the corner and I am giving you a new set of resolutions that you'll want to to stick to…wine resolutions.
Drink More Wine
I am not suggesting you become a lush, but rather explore a bit and step outside of your wine box.  Try a new varietal, region or style you've never had.  And speaking of boxes, if you happen to have that big box of Sunshine Blush in your refrigerator, you can recycle and reuse the box to sweep the NYE confetti into.
Or pour the leftover wine into ice cube trays and save it until the next time you make punch.  Keep the bag to transport wine or cocktails on your next sunset beach hike.  You have just knocked out several resolutions and now you have motivation to take a long, vigorous hike. You are on your way.
Appreciate Your Wine
We all love to sit down, relax and enjoy a glass of wine, especially after a stressful day at work.  The next step is to learn how to appreciate it.   Use your senses and the 5 S's to evaluate your wine…see, swirl, smell, sip and savor.  Stop and smell the roses, berries, bacon, vanilla or pepper. No guzzling.
Appreciating wine is just like appreciating anything else in life. Learn a little something about it and it will become more interesting and exciting.  With every sip, remember that wine is history, culture, geography, terroir, science, art and people.
Share a Bottle with Friends
Make it social, have fun and talk about the wine.  You will learn a ton.  Start a small wine group where everyone brings a bottle, researches it and shares a little something about that wine and its region. Take turns offering your home as a meeting place. Perhaps you will enjoy this so much, you will want to take a class at your local college, meet weekly at a nearby wine bar, visit a vineyard or take a wine trip with your friends.
Get to Know Your Local Wine Shop Staff
Take some time to navigate your local wine shop.  Shops, like restaurant menus, are set up by region, varietal, price or even style.  Introduce yourself to the staff, tell them the wines you've enjoyed in the past, pick their brains, ask for suggestions and never be afraid to disclose the price range you would like to stay in.
Ask for a wine that  would work well with the spicy Thai noodles you are going to have later at the neighborhood BYOB. (I love Riesling with my spicy Lard Nar.)  Staff will take pride in their recommendations and tell you what they love and buy, most likely, the best deal in the house.  You may find some great deals on supermarket shelves, but you are more likely to find something incredible and off-beat within your budget at your local shop.  Your shop may even have something opened to taste as you shop.  Each sip you share with a knowledgeable person is like reading a chapter in a book.
Pair Wine with Food.
One of the greatest pleasures in life is when you discover that perfect food and wine pairing…you know, that match made in heaven is like a symphony being played in your mouth.  Start with some tried and true pairings to get used to the way food and wine can work together:  Muscadet and oysters, Sancerre and goat cheese, Pinot Noir and roasted duck, hot black coffee and sweet, fatty doughnuts.  (That just slipped in. Wipe your mouth.)
Have an open mind and remember that you don't always have to follow the rules. as I am about to toss some guidelines at you.
Pair by similarity and weight.  Match a creamy, buttery Chardonnay with a creamy, buttery sauce over lobster or pair acid with acid, such as a crisp, zingy Sauvignon Blanc with lemon sauce over trout.
Pair by opposite and work the contrast. Balance that delicious Riesling with a spicy Mexican seafood dish and that fruit will come alive in your mouth.
"If it grows together, it goes together," is another great way to match. Try an earthy Oregon Pinot Noir with wild-caught Pacific salmon and freshly picked mushrooms.
Experiment and have fun with it!
Now that you have a new list, let's get started.  Base your resolutions around wine and you are sure to learn a lot, have great times and make some friends.
A glass of wine combined with a tasty dish is always the perfect end of the day pairing. Cheers!