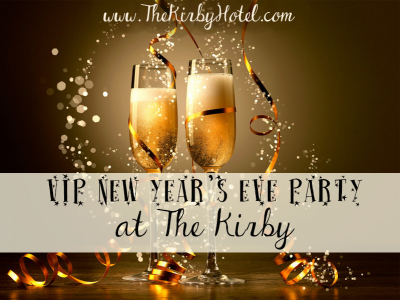 Have you ever imagined hosting a lavish New Year's Eve party in a huge mansion?  Your best friends would be there, along with amazing food, excellent wine, and of course people to arrange it all for you so you could enjoy without lifting a finger.
Well, now's your chance!  Rent The Kirby on NYE and have your own luxury private party for your 40 closest friends for only $3500! Gather up your nearest and dearest and have the New Year's VIP party of your lifetime at the most beautiful bed and breakfast in Saugatuck-Douglas, Michigan!
From the moment you arrive, you and your group will have the run of the entire gorgeous Victorian mansion.  Because we have 7 beautiful guest rooms, you and 13 of your guests can stay overnight.
Arrive anytime after 
noon on Wednesday, December 31st and you and your guests will be greeted with snacks and beverages. 
After you settle in, we recommend checking out the town. 
There are tons of exciting things to do…winery tours, gallery strolls, invigorating hikes….  We will hook you up with whatever kind of fun you're looking for.
But the real fun begins the evening of New Year's Eve – here's what the package includes:
Up to 40 guests for the party!
Up to 14 overnight guests
A

 private, sit-down gourmet dinner party (complete with expert wine pairings!) or hearty hors d'oeuvres served throughout the evening
A fun selection of NYE hats and party favors
Elegant & festive decorations
A professional photographer on hand to snap pictures of the magical moments you'll want to remember
A special gift basket in each guest room to help you bring in the New Year in style
After your night of celebration, overnight guests will enjoy a scrumptious brunch buffet on New Year's Day with bottomless Mimosas
A late check out New Year's Day (we know you'll be in no rush to leave)
And finally, overnight guests get a The Kirby goody bag with some great treats for the ride home.
Don't miss this great offer! Give us a call now at 269-857-5472.  Operators are standing by!