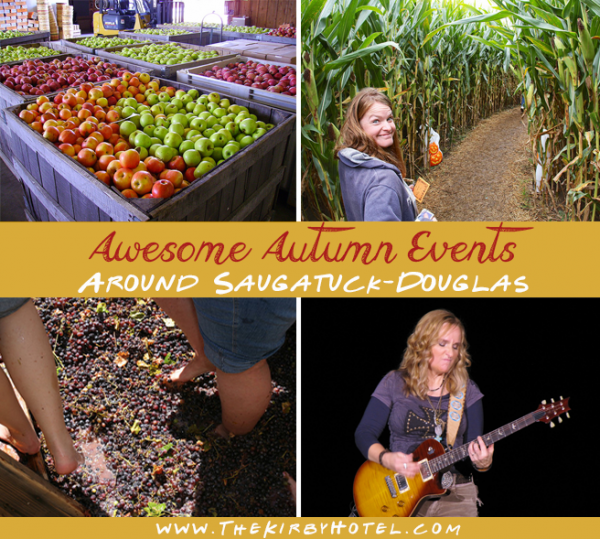 Fall is one of our favorite seasons in Michigan.
The weather is perfect for enjoying the outdoors, and the warm, happy vibe of harvest is ripe in the air. Natives of the area like to make the most of this combination by planning a variety of fun and festive events that you just won't want to miss.
If you aren't from the area, though, choosing which ones to attend and which to skip can be overwhelming. As for finding somewhere to stay? Even tougher.
Don't worry, though, The Kirby's got you covered. We've done the research for you and gathered a list of lavish events, laden with all of your favorite things about fall. When you've decided which ones you'd most like to attend, give us a call to coordinate your stay!
What: Live Mannequin Night
When: September 18
Where: Downtown Holland
The theme of this annual event for 2015 is a perfect fit for the young and the young at heart: Disney Movies! Less than 20 minutes from The Kirby, this event features the creativity and live acting skills of numerous volunteers from the Holland community. Take a slow and easy stroll from storefront to storefront to enjoy several small Disney Scenes, and vote for your favorites at the end of the night.
What: The Wedding 25 Years of Love and Art Exhibit
When: September 11 – October 25
Where: South Haven Center for the Arts
Whether you're a hopeless romantic at heart, a simple art fanatic, or a huge history buff, you're sure to find this particular event quite exciting. Take the time to peruse this heartwarming display of art and love, all season long. This exhibit will be one of the most beautiful & interesting shows the Art Center has ever presented for its surrounding community – be sure to stop in! This event is also only a 20 minute trip by car from The Kirby.
Paw Paw Wine & Harvest Festival
When:  September 11 – September 13
Where:  Downtown Paw Paw
Less than an hour from The Kirby is the charming town of Paw Paw, Michigan.  Every September, the town throws hosts a festival to celebrate the fall harvest and local wines.  There will be live music on 4 different stages, carnival rides, fireworks and, best of all, a grape stomping competition for those who feel like trying their hand (or feet) at the old-school wine-making methods of yore.
What: Allegan County Fair
When: September 11 – September 15
Where: Allegan County Fairgrounds
The Allegan County Fair is the largest county fair in the entire Mitten State. It will feature big name entertainment, delectable fair food favorites, commercial vendors, extraordinary exhibits, harness racing, tractor pulls, livestock shows, a demolition derby, a radio, a senior day program, a ladies day program, a historic village, a singing competition, an elephant encounter and more! Only thirty minutes from The Kirby, we can't think of a more entertaining way to spend an evening!
What:  Live Music in Kalamazoo
When:  Check Dates Below
Where:  Kalamazoo State Theater
An hour from The Kirby is the happening town of Kalamazoo, which often draws big name musical artists for not-to-be-missed concerts.  Start your evening with drinks and dinner at The Kirby and then take a short drive to catch one of your favorite acts.  Here are a few upcoming shows you'll want to check out:
Sept 16:  Wilco
Oct 10:  Buddy Guy
Oct 13:  Melissa Etheridge
What: Bangor Apple Festival
When: September 19
Where: Downtown Bangor
This fun, local festival is only 31 minutes from your room at The Kirby and proudly celebrates one of Michigan's most delicious autumn exports.  You'll find here a stocked farmer's market, classic car show, talented live entertainment, and various vendors' booths where you can pick up some unique souvenirs or even begin doing your holiday shopping early.
What: Corn Maze at Crane Orchards
When: September 5 through October 30
Where: Fennville
Last but certainly not least, this festival is a fall classic you won't want to miss. Everyone loves a good corn maze, and who could turn down 20 acres of fun? Crane Orchards utilizes boundless creativity and physical energy to come up with a new design each and every year. Many visitors come back annually, but the uniquely challenging experience is well-suited to newcomers and families, as well. Best of all, you'll have the opportunity to pick your own corn to take home after the event. Admission is less than $10 and the drive to the orchards is only 10 minutes from Kirby.