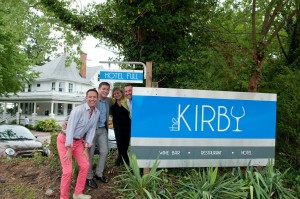 The Sarah M Kirby House, known as The Old Grand Dame has historical significance, a long and romantic history and is a registered Michigan Historic Site. Sarah M  Kirby (1861-1951) migrated with her family to Douglas,MI in 1872 and married Frank Kirby in 1883.  Unusual for the time, Sarah purchased the lot in her own name in 1890.  She was not able to vote then. The former Kirby House received a new lease in life when daughter, Lois Faith Kirby Nevins, a nurse, converted the home into a community hospital for the Douglas-Saugatuck area from 1931-1957. Many local residents still in the area today were born in one of the bedrooms.  Until 1983, the house had a number of different jobs from a real estate office to an antique store.  In that year the Konitos bought the house and turned it into a bed and breakfast and in 1998 Ray Riker and Jim Gowran purchased it and ran it as a bed and breakfast as well where many memories had been created. Many residents and visitors tell wonderful stories of their experiences at The Kirby.
In fall of 2013, Jay Paul Deratany used the home as base-camp for his movie titled "Saugatuck Cures." After 3 weeks of filming in the home, Jay Paul decided to take the Kirby House under his wing and give it a modern look and feel, yet keep its architectural integrity. Renovations on the home began in March 2014 and The Kirby reopened as a boutique hotel later that year. J. Paul's Restaurant and Wine Lounge followed.
The Kirby accommodates guests with 5 modern guest rooms and a junior suite, a host of services, luxuries & amenities, beautiful gardens, lavish backyard decks surrounded by forest serenity, a cozy wine lounge, indoor-outdoor dining, and food & wine classes.  Sometimes, we will have live music on the deck for your entertainment. We will be closed January through April of 2016 for winter break.
Located 2 blocks from the shops and galleries of downtown Douglas and a short walk from the boutiques and nightlife of downtown Saugatuck, the location is perfect for your getaway.  Leave your stress behind and take in the relaxing and charming beach town atmosphere.  Saugatuck's Oval Beach has been rated by Conde Nast's Traveler Magazine as one of the best 25 shorelines in the world. Whether you like sunbathing, swimming or strolling the beach at sunset, you will be surrounded by beauty during all seasons.  For the more active traveler, the dynamic duo towns offer an array of activities…kayak the Kalamazoo, sail away the day, play a round of golf, bike a trail, test your paddleboard skills, go charter fishing, run a country mile or climb the stairs at Mount Baldhead for a stunning, scenic view.  For the artsy traveler, you are in a magnificent, noted art colony with galleries galore and home to the renown Oxbow campus…so much to see and do or not. It's all your choice.  Set the pace.  We are happy to provide you with many options for theater, live music, apple picking and local winery, cider and brewery tours.