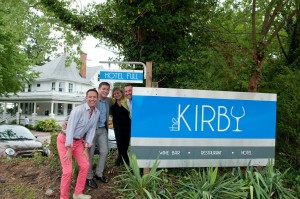 The Sarah M. Kirby House, known as The Old Grand Dame has historical significance, a long and romantic history and is a registered Michigan Historic Site. Sarah M. Kirby (1861-1951) migrated with her family to Douglas, MI in 1872 and married Frank Kirby in 1883.  Unusual for the time, Sarah purchased the lot in her own name in 1890 although she was unable to vote. The former Kirby House received a new lease in life when daughter, Lois Faith Kirby Nevins, a nurse, converted the home into a community hospital for the Douglas-Saugatuck area from 1931-1957. Many local residents still in the area today were born in one of the bedrooms. Until 1983, the house also served a variety of purposes a as real estate office and an antique store.  In that year the Konitos bought the house and turned it into a bed and breakfast and in 1998 Ray Riker and Jim Gowran purchased it and ran it as a bed and breakfast as well where many memories had been created. Many residents and visitors tell wonderful stories of their experiences at The Kirby.
In fall of 2013, Jay Paul Deratany used the home as base-camp for his movie titled "Saugatuck Cures." After 3 weeks of filming in the home, Jay Paul decided to take The Kirby House under his wing and give it a modern look and feel, yet keep its architectural integrity. Renovations on the home began in March 2014 and The Kirby reopened as a boutique hotel later that year. J. Paul's Restaurant and Wine Lounge followed. Jay Paul currently owns the Deratany Law Firm and has won Top Illinois Lawyer from 2007-2014.
Meet our Team:
Born and raised in Chicago, Mindy Trafman has been in the restaurant industry for 30 years. Mindy serves as The Kirby's general manager, chef and sommelier. Mindy has operated some of the nation's most popular restaurants such as the highly acclaimed con fusion restaurant and Cru Wine Bar. Mindy's enthusiasm for share plates and wine pairings  bursts and today she is looking forward to sharing these passions with you at         J. Paul's Restaurant.
Artist Raven Toney crafts furniture entirely from salvaged wood, with styles ranging from rustic to mid-century modern. Raven has uniquely crafted our bar, tables and woodworking at The Kirby. He continues to design and make custom furniture pieces for residential and commercial clients, including restaurants, offices, and retail businesses. View Raven's art at http://www.RavenToney.com.
Jeff Arnold specializes in both residential and commercial interiors and has earned the reputation for an exceptional eye for design and a deep commitment to personal service. Drawing from both contemporary and classical reference, Jeff designed the unique guest rooms at The Kirby Hotel. You can contact Jeff at  jeffarnolddesign@yahoo.com.