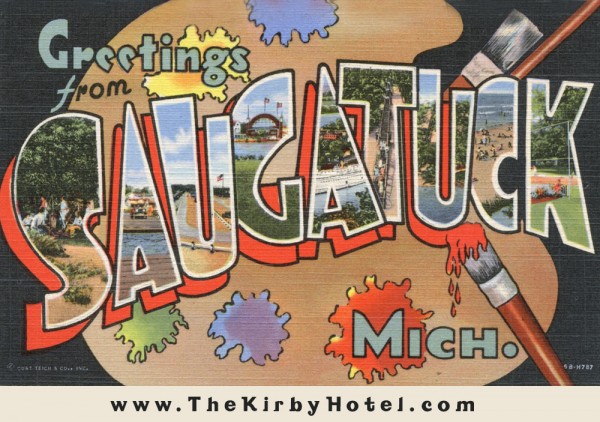 These days, Saugatuck-Douglas is a known as a world-class beach town with a bounty of natural beauty and a thriving art scene.  But it wasn't always this way…
To better understand and appreciate this charming place's present, we thought we'd take a look back at its past.
Setting Up Shop
Though not much is known about the native tribes who lived in this area, it's thought that the name "Saugatuck" is of American Indian origin.  The documented history starts in 1830, when William G. Butler arrived with his family from Connecticut and built a log cabin on what is now the corner of Butler and Mason streets in downtown Saugatuck.
For a few years, the Butlers were the only settlers in the area.  But it wouldn't be long before others saw the great potential for a town that had a natural harbor and nearby forests full of plentiful lumber for building.  In the coming years, other families would arrive and join Butler in using the land for industries like shipping, tanneries, storage warehouses, a general store, a saw mill and more.
An Industrial Village
By 1835, there was a post office and a name, which was Kalamazoo.  But it lost that name when the town of Kalamazoo became officially incorporated.  So the town adopted the name, Newark after the township it was in.  In 1863, the name was changed again, but this time it stuck: Saugatuck.  And by 1851, another village had been established right next door, named Douglas after the capital of the Island of Man.
Saugatuck-Douglas soon began to flourish and became a major source of lumber in the Midwest.  In fact, much of the wood that was used to rebuild Chicago after the Great Chicago Fire of 1871 came from right here in Allegan County.  The area was also known for building ships and growing fruit, two industries that took over when there was no longer enough trees to support a booming lumber industry.
An Artful Escape
By the 1880s, Saugatuck-Douglas had become a popular vacation destination for urban residents of Chicago, Detroit and even St. Louis.  Camps, recreation, resorts and hotels in Saugatuck and Douglas started to spring up to support the tourism.  A few popular attractions included a large dance hall and movie theater called The Big Pavilion, a swimming pool and a roller rink.
Another important addition to Saugatuck-Douglas was the Summer School of Paintings on Ox-Bow Lagoon. Established in 1910, it was started by a couple of artists from the School of the Art Institute of Chicago after they'd come to love the tranquil and peaceful nature of the area.  Ox-Bow still thrives today and is an important part of the creative community here.
We're lucky that what has survived in Saugatuck-Douglas is an appreciation of art, nature and the same historic, small-town charm that has drawn visitors here for over a century.  And learning about the rich history of the place makes us appreciate it even more.