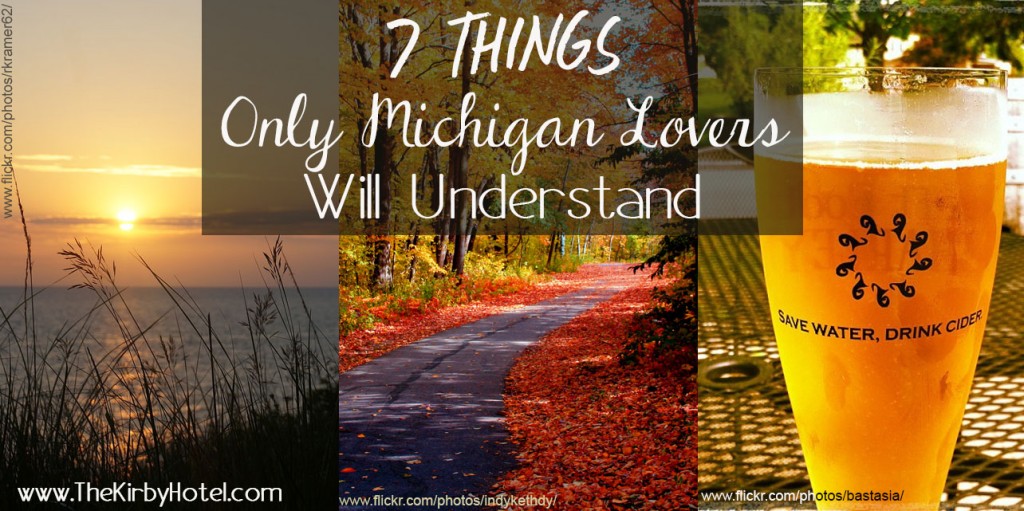 Whether you live in the great state of Michigan, you grew up here or you just enjoy visiting, you know that this place is something special.
In a way, Michigan is a bit of a hidden gem among the 50 states – though many in the Midwest know of its endless charms, it seems that much of the rest of the country has no idea just how wonderful it is.
And you know what?  We don't mind that so much…it just means our beaches are less crowded, it's easier to get a table at our favorite restaurants and our beautiful nature stays natural.
Here are just a few other things we Michigan super-fans know well…
A Great Lake is as Great as an Ocean
When you're standing on the shores of Lake Michigan or Lake Huron, you might think you're looking at one of the mighty oceans.  These lakes are no piddly little ponds or swimming holes (although we have those too and they're pretty nice) – they are vast bodies of water that stretch as far as the eye can see.
Plus there's no pesky salt in the water and no danger of shark attacks.  This is not to mention the 11,000 other named lakes in the state or the fact that Michigan has more coastline than the entire Eastern seaboard!
Your Hand Is Your Map
Those who spend any time in Michigan know that the state is shaped like a hand, which is how it got its nickname, "The Mitten."  But it's also how Michiganders give basic directions or tell someone where a city is located.  Want to try?  Just hold up your hand and point to roughly where the city you're referring to is located on your old hand-map.  Works every time.
Michigan Fall Foliage Takes the Cake
Sure, New England is famed for its fall foliage, but true lovers of autumn colors know that rural Michigan is THE place to see the leaves change.  A slow drive through the back country roads on a sunny October day is nothing short of miraculous.
Ice Cream Is Just Better Here
What is it about small Michigan towns and their ability to churn out amazing, homemade ice cream?  The small, independent ice cream parlors that populate every Michigan town still do things the old fashioned way and manage to produce some of the very best ice cream in existence.
All Beer Should Be Craft Beer
Once you try small batch, craft beer made in Michigan there's simply no going back to Heineken or Budweiser.  Here, people know their craft beer and they're always looking for new, small breweries to try.  Each time you come is an opportunity to try a local, seasonal ale that'll surely become a new favorite.
They Make Wine Here…and It's Good
Michigan might not be the first place you think of when you think of American wineries, but those in the know have explored the many local vineyards and have become Michigan wine converts.
Apples Cider Is Nectar of the Gods
Mitten State lovers do not think that apple juice is remotely the same thing as apple cider – they know that the fresh, thick, just-made cider that comes from local apple orchards is a whole category onto itself.  Whether you enjoy it cold or warmed up (with a little whiskey snuck in), it tastes like a liquid version of the crispiest, juiciest apple you've ever had.
Well, if that didn't put you in the mood for a trip to Michigan, nothing will!
If you're reading this, then you probably love this state as much as we do…and you're probably long overdue for a trip here if you live elsewhere.
Just remember that our light is always on and we've got a cozy room waiting for you in the heart of one of Michigan's loveliest cities – come see!