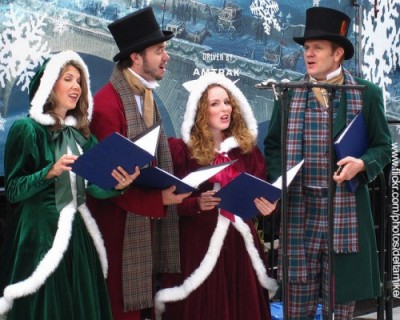 The holiday season is officially upon us. Christmas lights are adorned on every home, store windows display tons of gift prospects, and everything is suddenly offered in mint flavors.
Everyone celebrates the holiday season in their own way. There's many traditions families hold, but maybe it's time to bring in another or just try something new this December.
There's lots to see in Michigan, especially during the holiday season.
1.  See Charles Dickens's "A Christmas Carol" – December 12 – 14, December 19 – 21
For the 28th year in a row, community performers bring to Michigan the classic tale of Ebenezer Scrooge and his adventures with the ghosts of time. Check out performances at the Saugatuck Women's Club on either the weekend of the 12th or 19th. 8 pm Fridays, 2 pm & 8 pm Saturdays, 7 pm Sundays. Call (269) 857-1701 for details.
2.  Pet Christmas Party & Photos with Santa – December 13
Why leave your furry family member behind while you're all out having fun? Head over to Just Dogs and Buddy's Bath House for their annual Christmas party on December 13 for pet-friendly Christmas treats and pictures with Santa. Call (269) 857-8101 for more details.
3.  Holiday Tours at Felt Estate – December 14 – 28
Year-round, you know it as a historical building where people rent out event and meeting rooms. During the holidays, the Felt Estate and trees on the property are decorated with 5,000 outdoor lights. From December 14 through the 28th, Felt Estate is offering tours to "bring holiday delights to all who visit." Fridays, 6-8pm; Saturdays, 6-8 pm; Sundays, 2-4 pm; Monday – Wednesday. Call (616) 335-8982 for details.
4.  Holly Days Bazaar – December 16
Does you have a flair for the local art scene? The Holly Days Bazaar brings together artisans and vendors to show off their work. You can also enjoy food and drinks while you shop around for gift ideas. Head to the Everyday People Cafe on December 16 at 5:30 pm for the last Holly Day of the year. Call (269) 857-4240 for more details.
5.  Salt of the Earth's Holiday Party featuring the Schrock Bros. – December 21
Rustic American eatery, Salt of the Earth, is one of the most popular music scenes in Michigan for acoustic and and traditional genres. Every Sunday through the end of January, they'll be hosting a new musical guest during their concert series. Their December 21 performance is a great time to stop by for their holiday party with the house band and musical guest The Schrock Bros. Call (269) 561-7258 for details.
6.  Christmas Eve Celebration – December 24
Nothing puts you more in the Christmas spirit than listening to carols together. Listen to Laurie Donaldson, the lead singer of "Random Play" sing classic Christmas songs at Waypoint Restaurant on Christmas Eve. Call (269) 857-2569 for more details.
Almost every town in the country looks beautiful and festive this time of year, but we think that the Saugatuck-Douglas area shines especially bring during the holiday season.  Come visit us and see for yourself!