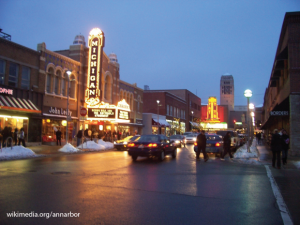 Most people in the Midwest think that traveling to gay friendly cities is difficult because of distance. This piece will explain why that idea is wrong. The Midwest might not have the same weather as California, or a club scene like Ibiza, but it sure does have great outdoors and gay communities. There is no doubt in our mind that these cities will surprise you, and you will be very inclined to travel there. To understand why, continue reading below.
5. Madison, WI
Here you will find many wonderful things to entertain yourself with including outdoors activities, brewing companies, amazing dining, and of course great clubs like Plan B. Of course, cities like Chicago and Milwaukee are a short car ride away if the clubs in Madison don't satisfy your needs.
4. Ann Arbor, MI
Ann Arbor is another famed college town, just like Madison. The University of Michigan is a fantastic gem in what would otherwise be a very conservative town. Out Travel named Ann Arbor as one of the top surprising gay cities in America, because of it's large variety of gay bars and clubs.
3. Columbus, OH
Most wouldn't expect Columbus to be have a big gay community, but it is the 15th biggest city in all of America, so it's hard to not have a thriving community in some neighborhoods. Short North and Clintoville are neighborhoods that have vibrant communities with art galleries, pubs, clubs, and LBGT centers. This part of Ohio ranks among the highest per capita donations to LBGT political causes in the USA.
2. Saugatuck, MI
Saugatuck and Douglas Michigan are two of the gayest friendly small towns in the entire world. There are over 140 gay owned businesses and shops in Saugatuck and all of them are unique and welcoming. The area is called the "Art Coast" because of all of it's galleries and artist studios. On top of this there are fantastic beaches and activities to participate in outdoors all year round.
1. Bloomington, IN
Bloomington is known as the gay capital of the Midwest by many, and for good reason! It is the fifth largest per capita population of same-sex households in all of America, in 2010, the advocate named it the 4th gayest city in America, and many health benefits are offered to gay couples and singles including gender identity protection. This is also a college town, so there are a lot of things to do for fun!
All of these cities will show a gay or lesbian person a wonderful time during the day and night. No matter if you're a wild partier, or a relaxed artist, each city can cater to your needs. Don't wait, start to schedule your vacation now!