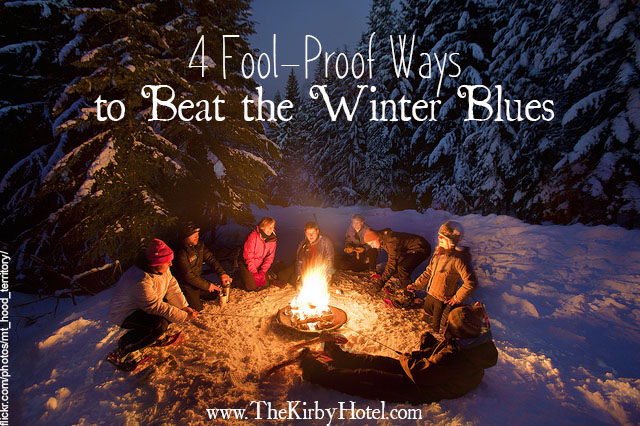 Are you feeling tired? Unmotivated? Sick of 2015 already, even though it's only just begun?
Well, the Midwest winters will do that to you.
Chances are that you're suffering from a case of the good (or bad…) old winter blues. That should come as no surprise when you consider that the excitement of the holiday season is over and the time of "self-improvement" and "getting back to work" has begun.
You're likely being bombarded with images of your peers' new diets, workout regimens, and various forms of productivity whenever you log into social media- all of which seem specially designed to make you feel bad about that pizza delivery or taking a mid-afternoon nap when you should be working out. And for those of us dealing with rough winter weather, spring sure seems a long way away…
Don't worry, though. The winter blues are actually pretty common, and they're nothing that you can't beat with a little bit of self –love and pampering! Here are four fool-proof ways to beat the winter blues this month.
Ignore Those Instagram Photos Of Salads & Treadmills
Really. Being healthy is super- and something you should strive for year-round – not just for the first few weeks of the new year. Being satisfied is another thing entirely, though. Sometimes, a decadent brownie by the fire with a mug of cocoa and your significant other besides you is a totally valid and acceptable way to unwind, regardless of the misery everyone else seems determined to put themselves through just because a number on the calendar has changed.
Get Active Anyway!
Yes, winter weather can be unfortunate when it causes flights to be canceled and roads to be dangerous. However, it can also readily provide some really awesome recreational opportunities, like skiing, snowboarding, and snow fort-building! Enjoy the crisp weather instead of keeping yourself cooped up, your body will thank you later with better sleep and less of a "blue" feeling thanks to all of the endorphins released by exercise and fresh air.
Cook a Cozy Meal
Perhaps all of these suggestions to cheer up by way of food are why people sometimes pile up the pounds in winter time (remember, everything in moderation!) but cooking a cozy meal with or for your family or friends can be a quick way to cheer up with minimal effort.
The physical acts of stirring, chopping, and cooking can be relaxing in their own rights, but so can seeing the smiles on your loved one's faces as they enjoy a delicious dinner you made just for them! What to make? We love fresh, modern takes on comfort foods like stews and soups (hello crockpot!) accompanied by delicious cider beers or full-bodied wines that warm you from the inside out.
Get Away
…to The Kirby that is! It's important to pamper yourself from time to time, especially when you're trying to beat the winter blues. With delightfully refreshing décor, beautifully natural surroundings and a wine and cheese welcome wagon, The Kirby is the place to go for a little rest and relaxation this winter. After a weekend of sipping award-winning wines and enjoying the awesome amenities, you'll be rejuvenated and ready to step back into the real world come Monday.
The winter blues are common, especially in cold weather climates like ours.  The snow and cold seems festive around the holidays, but can sometimes drag us down from January until spring.  But if you face winter prepared to keep your spirits, up, you can actually enjoy the season.